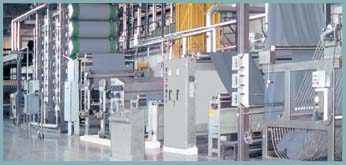 Denim Finishing allows the highest process speeds and maximum flexibility. Processing begins with brushing and singeing followed by impregnation of finishing chemicals, fabric skewing and drying of fabrics at speeds up to 100 m/min. Value-added processes include Classical Finishing, Soft Finish, Flat Finish and Stretch Finish.
SANFOR, as a discontinuous process, follows for stabilization of fabric properties.
Morrison is your exclusive single source of supply for Indigo Dye Ranges (Rope & Sheet) and Integrated Flex Finish Denim Finishing Ranges.